Ride on Brush Cutter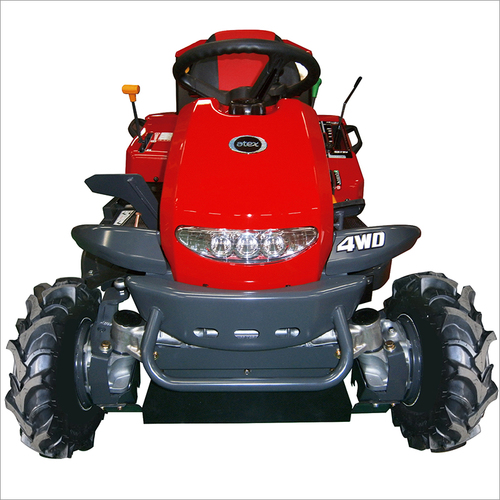 USD($) 6,500.00~14,000.00 / 1UNIT USD ($)/Unit
Price And Quantity
USD($) 6,500.00~14,000.00 / 1UNIT USD ($)/Unit

6500.00 - 14000.00 USD ($)/Unit

12 Unit
Trade Information
Australia, Eastern Europe, Western Europe
Product Description
The offered Ride on Brush Cutter is meticulously designed and delivered by our company. It is outlined to cur long brash and grass on rough terrain and steep slopes. When it is fitted with a mulching kit, it delivers outstanding cutting results on gardens, backyards, or lawns so the customers do not need to deploy a lawn tractor. It is integrated with high-tech components that never bent, burns, or get damaged under normal conditions. Our Ride on Brush Cutter can easily outperform the conventional lawn tractors as it can ride on different surfaces without getting damaged or requiring special tools.

Other Details :
Import Market: China, Taiwan
Monthly Production Capacity: 50 Units per week
Tread: FF 830mm, RF 785mm
Cutting Width: 980mm
Cutting Height: 10-100mm
Knife Shape: Free knife x 2
Speed: Forward 0-10.0km/h Reverse 0-8.5km/h
Operation: HST pedal, HST lever
Max Inclination: 25 degrees

Specifications:
ATEX Mower R9824FA 4WD
Kawasaki FS691V twin engine.
Atex made Heavy duty transmission with 4WD on demand with differential lock. 13cc external mounted hydraulic pump with charge pump.
Sliding Seat - The seat can be adjusted to the right-side of the operator by sliding when required. (CE certified model is not acceptable.)
Step-less cutting height adjustment 10 ~ 100mm.
Minimum Body Height - With a height of just 875mm getting on and off is a breeze.
Smart Blade Adjustment - The mowing blade height adjustment is step-less and the lever is collapsible for the operator maneuverability.
Eco Drive Technology - For low to medium workloads the operator has the option to select Eco-drive for efficient fuel consumption. Full-throttle-drive can be available in one touch when things get heavy.
Easy Clean Under Carriage - All you need is fit a hose and turn the blade for 3 minutes. Simply connect the hose at the blade cover and just 3 minutes rotating can wash off the dust and debris inside the blade cover.
Maintenance Accessibility - With only removing one knob, the seat and engine cover opens effortlessly to the rear. The operator can access the engine base easily.
ATEX mower will cut vegetation and be able to go difficult terrain beyond your expectation. However it will also cut your front lawn.
Made in Japan.
Get in touch with us